by Ayele Addis Ambelu (Ayeleradio@gmail.com)
Participants emphasized that interconnections between the Agenda 2063, NDCs, and the SDGs, particularly SDGs 6 (clean water and sanitation), 2 (zero hunger), and 7 (affordable and clean energy), are critical for managing the continent's environmental resources in an integrated manner.
On November 4 and 5, the Kingdom of Morocco is hosting the 2nd Annual Ministerial Conference of the African Adaptation Initiative for Climate Change (AAA Initiative), a high-potential solution to tackle food insecurity and climate change in Africa.
Food security in the face of climate change
While climate change is making headlines, the AAA Initiative will gather Ministers and representatives of African governments, key financial and technical institutions, donors, the private sector, universities, and scientists at the Mohammed VI Polytechnic University of Benguerir.
Among the 10 countries most threatened by global warming, 6 are in Africa, while the continent is only responsible for 4% of global emissions of greenhouse gases and accounts for 65% of the world's arable land. The AAA Initiative aims to provide an innovative and concrete response to the challenges raised by climate change in Africa, by mobilizing international knowledge and intellectual and financial resources. The first day of the conference will be devoted to Scientific Day, during which leading international experts and scientists will discuss Africa's food security challenges related to climate change, while the Donors Round table will discuss ways to mobilize funds. On November 5th, the African Ministers of Agriculture will meet to advise on the vision and strategic routes of the AAA Initiative.
The AAA: an African initiative for Africa
Launched in Morocco in 2016 a head of the COP22, the AAA Initiative emerged with the awareness that in Africa,issues linked to adaptation to climate change and the agricultural world are hardly taken into account when it comes to international negotiations and funds allocation. In the «Marrakesh Declaration», participants unanimously declared their commitment to support the AAA Initiative to help African agriculture adapt to climate change. Several milestones have been successfully reached, to give more visibility to the AAA Initiative, to help African countries to implement their nationally determined contributions (NDC) and to strengthen the capacity building of African policy makers and project holders.
SinceJanuary2019,the AAA initiative is held by a foundation, under the impetus of His Majesty the King Mohammed VI, with the mandate of implementing the objectives of the AAA Initiative, but also of providing assistance, advice, capacity building and technical support to decision makers, local institutions, project holders and farmers in Africa. Since then, the Foundation has sought to contribute to food security, improve the living conditions of vulnerable farmers and promote employment in rural areas by encouraging climate change adaptation practices and channeling financial flows towards the most vulnerable farmers.
The Annual Conference of the AAA Ministers has then become enshrined in the AAA Foundation's statutes,as an advisory body in charge of identifying the action programs needed to achieve the adaptation of African agriculture to climatec hange.
The AAA Initiative is actively supported by the UNFCCC, the FAO and 33 African countries: Morocco, Algeria, Benin, Burkina Faso, Burundi, Cameroon, Cape Verde, Central African Republic, Democratic Republic of Congo, Egypt, Ethiopia, Gabon, Gambia, Guinea Conakry, Guinea Bissau, Côted'Ivoire, Lesotho, Madagascar, Mali, Malawi, Mauritius, Mauritania, Nigeria, Niger, Rwanda, Senegal, Seychelles, Sudan, South Sudan, Eswatini (formerly Swaziland), Tanzania, Togo and Zambia, and other countries are welcome to join.
African leaders should demand an amendment to the Paris Agreement spelling out what Africa requires to "survive the onslaught of climate change.
The Africa Energy Transition Program (AFRETRAP) researchers Rajesh Eralil and Youba SokonaIn stated that a more and more climate change threatened the world, Africa's energy vision should be premised on moving from an energy landscape based on underdeveloped and carbon-intense pathways to a modern, clean and decentralized energy system. This transition is a critical enabler of meaningful and endogenous socio-economic development. While the continent may face a broad set of challenges in achieving this vision, it has at the same time the opportunity to avoid the fossil fuel lock-in that many industrialized countries face and to take advantage of vast supplies of untapped energy resources and/or any stranded asset problem. The Africa Energy Transition Program in the making under the auspices of the African Energy Commission forms a continent-wide and coordinated approach to facilitating the required transformation for the realization of Africa's development aspiration.
Entitled Pathways for leapfrogging to reconcile development and climate change imperatives in Africa writers Smail Khennas and Youba Sokona described energy transition toward low carbon emissions pathways is increasingly a priority not only to cope with the adverse impacts of climate change but also for achieving more sustainable economic and social development of the African continent. Fortunately, to optimize its energy mix for development according to sustainability criteria, Africa can take advantage of a rapid energy transition, thanks to its huge and largely untapped renewable energy potential and its abundance of a less polluting fossil fuel, namely, natural gas. Moreover, the fact that most of the infrastructure for energy systems in Africa is not yet built, particularly in sub-Saharan countries, offers these countries a good opportunity for leapfrogging. This Policy Brief explores guiding principles and pathways for a low carbon energy transition, including leapfrogging opportunities, energy system design and social innovation.
According to the Institute for Economics & Peace (IEP), of the 39 African countries surveyed in 2019 in the Lloyd's Register Foundation World Risk Poll, the highest level of climate change concern was registered in Southern African countries. Those having the highest percentage of their population worried about climate change were Lesotho (77.9%) and Malawi (74.6%), the sixth and ninth most concerned countries respectively globally, followed by Eswatini (69.6%), Namibia (65.3%) and Zambia (64.4%).
Of the five African countries showing the lowest level of climate change concern, four were Northern African: Egypt (17.6%), Libya (24.4%), Algeria (25.4%) and Tunisia (31.6%). Ethiopia, the second most populous country on the continent, registered the second lowest level of concern of the 142 countries polled globally, with merely 17.5% of its population being concerned about climate change.
As a responsible industrial player, OCP is strongly committed to Africa's environmental, social and human development. The group provides a wide range of well-adapted fertilizer products to enhance soil, increase agricultural yields, and help feeding the planet in a sustainable and affordable way. OCP places innovation at the heart of its strategy, in particular to implement sustainable and prosperous agriculture on the continent..
Writing ahead of COP26, four African leaders – Akinwumi Adesina (President of the AfDB), Ibrahim Assane Mayaki (CEO of NEPAD), Ngozi Okonjo-Iweala (Director-General of the WTO) and Vera Songwe (Executive Secretary of UNECA) – outlined a strategic financial and trade package to address climate inequality by shifting resources from historic GHG emitters to Africa. This plan rests on four pillars:
Developed economies must keep the 2015 promise to deliver $100 billion per year in climate finance to developing countries – commitments by developing countries were conditional on this pledge.
Financial markets and private capital must be aligned with the Paris agreements' goals. UNECA proposed a liquidity and sustainability facility to reduce borrowing costs for green investments.
Africa must be provided with significant resources to enable its economies to adapt to global warming. Climate change is costing the continent $7-15 billion annually. However, sub-Saharan Africa, which accounts for less than 4% of global GHG emissions, receives just 5% of total climate finance outside the OECD.
Trade rules aligned with the Paris agreement must be central to any solution to climate change. The African Continental Free Trade Area (AfCFTA) can provide the impetus to harness low-carbon development.
The African Union's Agenda 2063, the master plan for transforming Africa into a global powerhouse of the future, recognises climate variability and climate change among the main challenges threatening the continent's goals. The First Ten-Year Implementation Plan for Agenda 2063's Goal Seven aims for a sustainable climate and resilient economies and communities across the continent.
The continent spoke with one voice during the COP26 negotiations, with the African Group of Negotiators on Climate Change (AGN) representing the unified position of 54 African countries. According to Tanguy Gahouma-Bekale, AGN's chair, the COP26 goal on climate finance needs to be $700 billion per year. Against this backdrop, only 79 billion dollars were mobilised by the biggest polluters to vulnerable countries in 2020, far short of the 100 billion dollars per year until 2025 that was agreed at the COP15.
Due to their very small carbon footprint, clearly African states should not have to allocate the same share of their GDP towards climate initiatives as their developed counterparts. "We are not developed countries; we cannot use this money because this money is for development – it's for food, it's for education, it's for a lot of things – not to fight against a situation that we are not responsible for," explained Gahouma-Bekale.
African countries: Percentage of population which sees climate change as a very serious threat (2019)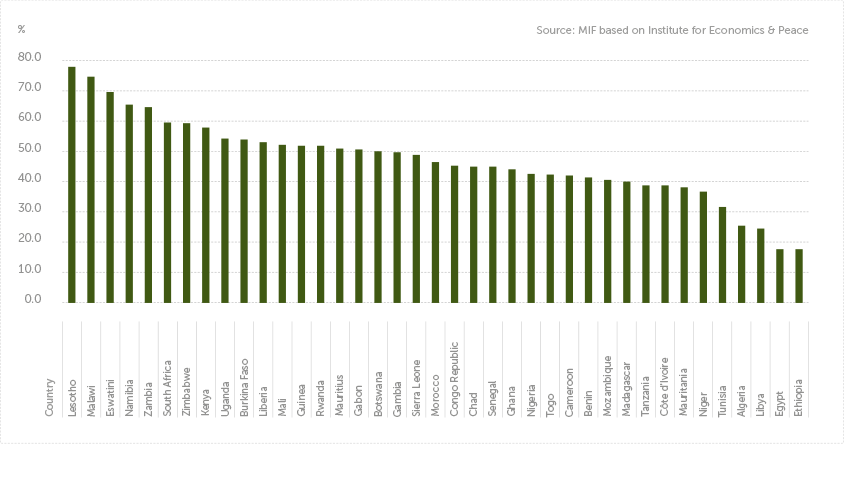 Research Spotlight series
A new series exploring data and key findings from the 2021 Ibrahim Forum Report.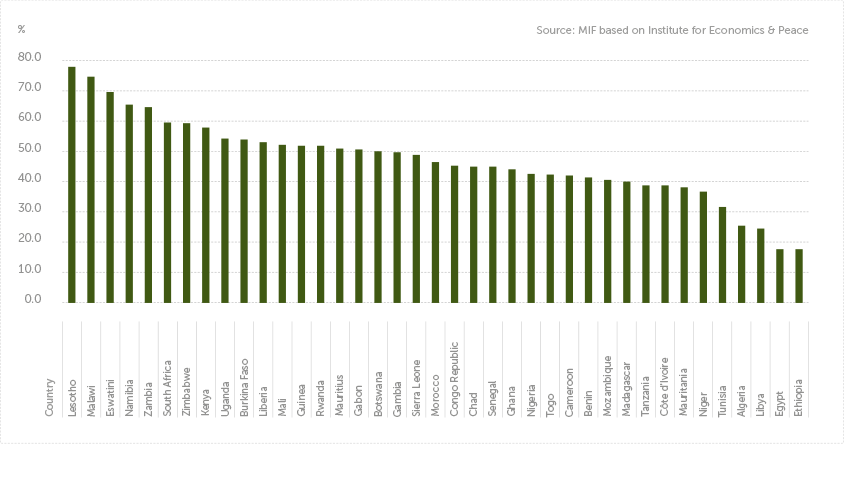 A study using Afrobarometer and climatic data identified the following common patterns explaining perception of climate change in Africa: climate change awareness, education, online news platforms and agricultural conditions. However, for perception of risk, agricultural conditions were the most significant predictor, followed by drought perception and belief in human causes of climate change.
SCIENTIFIC SESSION, 4 NOVEMBER 2019
~���
Share this to see more: